About Us
Golden Beach Studios is a marvellous holiday complex located on Naxos Town (Chora) studios,some meters away from the very picturesque capital of Naxos Island. With our friendly hospitality, Golden Beach Studios is one of the most inviting places to stay near Naxos Town.One of the most attractive features of the Golden Beach Studios is its close proximity to the stunning Saint George beach.
Our Services
Transfer Service
We will help you find a taxi to come directly to our hotel
Welcome Drink
Welcome drink (fresh seasonal fruit or traditional refreshment)
Room Facilities
All rooms have bath, refrigerator and the proper utensils,
air-conditioning, television, wireless internet connection
(WIFI), telephone and fully equipped kitchen.
Pay with Credit Card
We accept VISA, MASTERCARD
SERVICES
Car Rental - Travel Advisory Car Rental - Travel Advisory First aid clinic Overnight Laundry
Fully Equipped Kitchen
All of our studios feature fully equipped kitchen with all neccessary utensils to prepare your meal
Our testimonials
elena89vr
nt - "Ottimo Studios... Golden!!" Great value for money, nice position and owners provided little extra touches
Marion 2017
Accueil et disponibilité des gérants, calme, propre, spacieux
Britney
The beach agios Georgios was really close to it. (5' walking) It was walking distance to the center. The balcony was big. The staff was really friendly..
Previous
Next
choose your stay
triple studio
Double Bed, Sofa Bed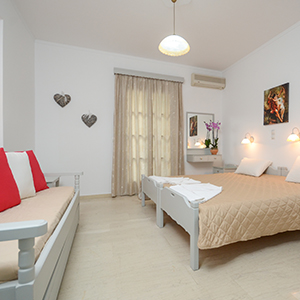 2 Twin Beds, Sofa Bed
Double Bed, Twin Beds
© 2018 Golden Beach Studios Naxos. All Rights Reserved | Design by Golden Scorpion Web Services
Top